Whetley Hill Day Centre clients to fight closure plan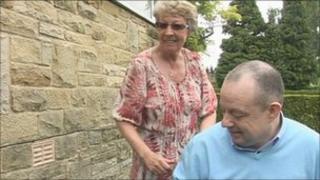 Clients of a day centre in Bradford say they are "going to fight" council plans to close the service.
Bradford Metropolitan District Council is considering closing Whetley Hill Day Centre in Manningham, which provides care for disabled people.
Families who use the centre described it as a "lifeline".
The council claimed it must consider the closure to save £9.1m from its adult social care budget over the next year.
Care consultation
Linda Howard, whose son Adrian has cerebral palsy and attends the centre each weekday said: "From day one you're battling and it should be becoming easier.
"It's not, it's getting harder and this is just putting the icing on the cake where they're proposing to close Whetley Hill Day Centre which is a lifeline to us."
The centre was built 35 years ago and provides care, activities and a social life for about 100 people, with many saying it has given them a "new lease of life".
Moira Wilson from Bradford Council said a consultation was under way to look at possible changes to current services.
"I realise it is difficult for people when they've been very used to going to a centre but I would like to reassure people and their families that their needs will continue to be met and we will make sure those are personal and supportive of them."