Bradford lane deaths: man in court on murder charge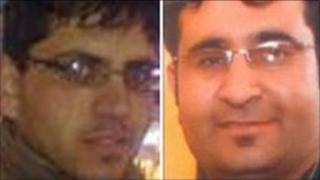 A 39-year-old man has appeared in court charged with murder in connection with the death of two men in West Yorkshire.
The bodies of Shahbzada Muhammed Imran, 27, from Bradford, and Ahmedin Sayed Khyel, 35, from London, were found on New Lane, Bradford, on 10 May.
Sabir Hussain, of Wensleydale Road, Bradford appeared before Bradford magistrates on Thursday.
He has been remanded in custody to appear before Leeds Crown Court on Friday.
A 25-year-old man arrested at the same time has been released on bail.
Two women have already appeared in court charged with murder and assisting an offender.
Arab Sultana, 63, and her daughter-in-law Kainet Bibi, 27, both of Heath Terrace, Bradford are accused of murder.
A 29-year-old man has also been charged with assisting an offender.
Police released on bail a 37-year-old man who had been arrested on Wednesday on suspicion of assisting an offender.