Spice Girls exhibition: doors close on record-breaking display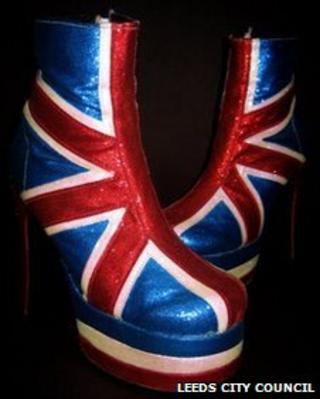 An exhibit of a record-breaking collection of Spice Girls memorabilia in Leeds has closed.
Since it opened in January, nearly 50,000 people have visited the exhibit at Leeds City Museum.
The items in Spiceworld: The Exhibition are owned by collector Liz West and include a pair of Union Jack boots worn by Geri Halliwell.
The event held a world record for the largest number of Spice Girls items together in a collection.
The museum said the best-attended exhibition previously was Dr Rock's Lost Gallery - involving minerals and crystals - with 3,500 visitors in 2010.
Curator of exhibitions Helen Langwick said: "The Spiceworld exhibition has proved really popular and we are especially proud to have played our part in a making a little bit of history with the Guinness World Record for Liz, which is well deserved for her amazing collection."
The exhibition was the first time Ms West's full collection had been on public display.
She said: "I was always extremely keen for this museum to play host to my collection, mainly because of the impressive nature of the venue but also because Leeds is Mel B's hometown."
Melanie Brown was born in Harehills and lived in Burley. She married dancer Jimmy Gulzar in 1998. The couple later divorced, and she went on to marry movie producer Stephen Belafonte in 2007.
The other members of the pop group were Victoria Beckham, Melanie Chisolm, Geri Halliwell and Emma Bunton.