Stolen CCTV cameras capture Bradford thief in the act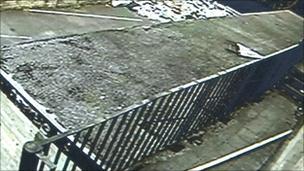 A thief who allegedly stole CCTV cameras from a former West Yorkshire pub has been captured on film by the very same equipment he was stealing.
The thief was filmed taking the cameras outside the former Listers Arms pub on Manchester Road in Bradford at about 1600 BST on Sunday.
The owner of the property has released CCTV footage showing a man removing the cameras from the building.
A 22-year-old man has now been arrested in connection with the theft.
The building's owner, Amjad Ali, a Bradford solicitor, said he had initially been "furious" when one of his employees discovered the theft of the cameras on Tuesday.
Mr Ali said he had recently spent about £25,000 protecting the premises.
However, when he reviewed the CCTV footage, Mr Ali said he realised the thief had made identifying himself "too easy".
He said he did not think the theft of the cameras would prove worthwhile to the burglar.
"He risked life and limb to take these cameras," he said.
"I don't think he would get more than £100 for them and that is what he risked his life for."
Related Internet Links
The BBC is not responsible for the content of external sites.