Flugtag aviators in Leeds for flying event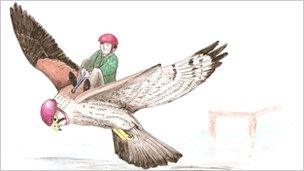 Amateur aviators from all over the UK have flocked to Leeds to compete in the Flugtag human-powered flying event.
About 35 teams pitted their wits against each other at the city's Roundhay Park to see whose machine could fly the greatest distance.
The record for the furthest flight at a Flugtag event stands at 63.1m which was set in Minneapolis earlier this year.
The winning team in the event will be given £5,000 or flying lessons to gain a private pilot's licence.
Thousands of spectators headed for the event to watch teams launch their contraptions from a 20ft (6m) high ramp above Roundhay Lake.
Among the Yorkshire entrants were Paul Woodcock and Keiron Clarke, from Barnsley, who crafted a 26ft (8m) wide kestrel perched on an arm.
Their aircraft was inspired by the film Kes, which was set in their home town.
Meanwhile, James Chapman, Ben Parish, Roz Laux and Hannah Walker were the Leeds team who designed the UFO-like James and the Giant Yorkshire Pudding.
The food theme continued with The Ice Cream Machine, also built in Leeds by Roy and Laura Greaux, Richard Haigh and Yvonne Sherriff.
Related Internet Links
The BBC is not responsible for the content of external sites.