Kirkgate Market introduces new 'shop and drop' scheme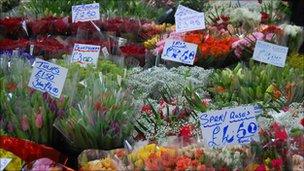 A new "shop and drop" scheme in Kirkgate Market has been introduced to tempt more shoppers to use its stalls.
Customers will be able to leave shopping in a new, secure chill room at the Leeds market.
The market has about 180,000 weekly visitors and the idea came after asking shoppers what changes they would like.
Sue Burgess, the council's markets manager said: "It is time to raise our game and we need to find ways to make it viable and vibrant."
Ms Burgess described the market as "the biggest shopping centre" in Leeds but said it was at a "crossroads", particularly with the plans for the nearby Eastgate centre getting approval.
Part of the market is still housed in "dilapidated" temporary buildings, put up after a fire in 1975.
Despite some empty units and concerns over refurbishment, Ms Burgess said that the market is "important" to the council.
It is claimed that the number of visits to the market has increased recently as shoppers increasingly look for value for money purchases.
Ms Burgess said: "The best schemes are the simple ones."
It is hoped that shoppers will buy extra goods, or bulkier items, and leave them until the end of the working day or after they have finished other shopping trips.
Customers wishing to store their purchases hand over their goods and are given a ticket for collection until 1800 BST.
Related Internet Links
The BBC is not responsible for the content of external sites.