Bradford teenagers launch food collection for homeless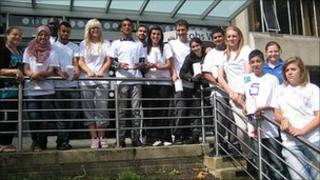 A group of teenagers in Bradford have given up part of their summer holidays to collect food for the homeless.
The volunteers, aged between 15 and 17 years old, said they hoped to show young people could make a positive contribution to their home city.
All the food they collect will be given to the Bradford Metropolitan Food Bank and distributed to homeless people.
Volunteer Zeshan Saleem, 16, said: "Everyone thinks young people are up to no good. We want to prove them wrong."
The teenagers, who call themselves The Streets, also hope to collect money and toiletries for Bradford's homeless.
'Good reaction'
Volunteer Imran Yousaf, 16, said as well as helping the needy, he hoped the food collection would highlight the good work done by many teenagers in Bradford.
"People think we're bad but we really aren't and, so far, we've had a good reaction," he said.
"We've even given up our holidays to do our bit to help the community in Bradford."
The food collection is part of the Summer of a Lifetime scheme run by the National Citizen Service, which aims to improve teenagers' communication and problem-solving skills.
Youth worker Ash Ibrahim, who is co-ordinating the food collection, said he hoped it might change people's views about teenagers.
"Young people feel they don't get listened to and they receive a negative press, so anything positive should challenge these perceptions," he said.
Volunteers from The Streets will continue their tinned food collections in Bradford throughout August.