Wakefield blocks of flats 'adopted' by PCSOs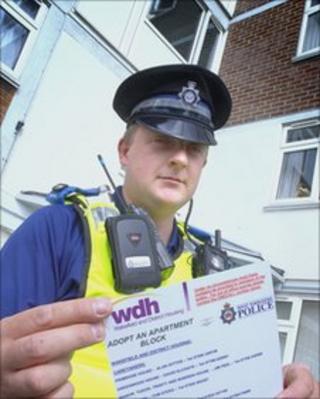 Seven-high rise blocks in Wakefield will each be "adopted" by a Police Community Support Officer (PCSO).
Each block will have a specially assigned PCSO preventing anti-social behaviour and reassuring residents.
About 430 residents live in Warren House, Tudor House, Trinity House, Carr House, Manor House, Greenwood House and Primrose House in Wakefield city centre.
Residents will have a photo and contact details of their assigned officer.
The PCSOs will also enforce alcohol exclusion zones and monitor illegal parking, and they will have key fobs to get into the blocks during patrols
PC Bernie Caulfield and Insp Richard Close from Wakefield Central Neighbourhood Policing Team devised the scheme.
PC Caulfield said: "It will increase confidence across the city centre because residents will have a chance to get to know their local officer."
Carr House resident Maureen Wood, 82, said: "It means a lot to me and the residents here because people are always conscious of police presence."
Adopt an Apartment Block is a project between landlords Wakefield and District Housing and West Yorkshire Police.