Salvation Army offers 'listening ear' at Leeds Festival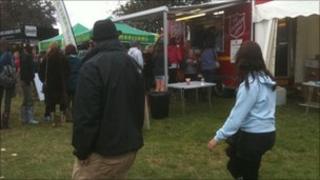 A 24-hour hot drinks service and a listening ear will be on offer from a team of 65 Salvation Army volunteers at this weekend's Leeds Festival.
It is the second year the service has been available at Leeds although the army started at Reading Festival in 1971.
The festival, which starts on Friday and runs until Sunday, but the van will be on site for five days in total.
Unit organiser Jon Cole said: "Our mission is to be out there and seen."
Mr Cole, from Garforth, expects the Salvation Army's Emergency Response Unit to be even busier than last year when 19,000 cups of tea were drunk.
Melvin Benn, of organisers Festival Republic, said: " I am particularly delighted with our ongoing relationship with The Salvation Army, which I consider to be an essential part of the Leeds line up."
As well as distributing affordable drinks the unit will have people ready to give pastoral care if it is needed.
"We will talk to festivalgoers but only if people want to talk to us." Mr Cole added.
"It is useful to connect with a different age group than we might normally meet."
About 80,000 gig-goers pack into Bramham Park during the course of the weekend to watch seven different stages.
The Salvation Army will be situated in Traders' Alley.
The Samaritans and Oxfam are also on site along with the festival welfare tent.