Funeral for Halifax couple killed in honeymoon quad bike crash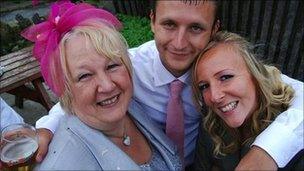 The funeral has taken place of a couple who were killed in a quadbiking accident while on their honeymoon.
Jonathan and Emma Gray, from Halifax, West Yorkshire, died at the Kuredu Island Resort and Spa in the Maldives on 6 August.
The couple, both 25, had a baby son, Jake, who was not with them on holiday.
Their joint funeral was held at Halifax Minster on Tuesday, exactly a month after their wedding. It was described as a "celebration" of their lives.
During the service Mr Gray's mother Cath Davies paid tribute to the couple.
She said Mrs Gray had made her son "the happiest man on this earth" and their six-month-old son had "turned our tears to laughter, diminished our sadness and put smiles back on to our faces".
She added: "I hope the two of them can now spend an eternity together, that they can look down on us and see Jake growing up into a happy little boy, with a large family around him, in a world where he feels secure and loved and safe from harm."
Family and friends were asked to wear bright colours at the funeral, which Ms Davies said would be a "massive celebration of their lives".
Before the service Kerry Kenealy, a friend of the couple, said: "It's so surreal, you shouldn't be burying two 25-year-olds at the beginning of their life.
"So I don't think anything about today is going to be normal or easy, we'll just have to do it out of respect and love for them."
Related Internet Links
The BBC is not responsible for the content of external sites.