Hundreds of tonnes of 'student waste' cleared in Leeds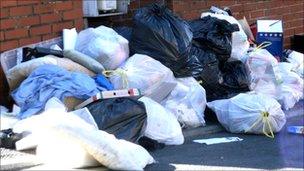 Leeds City Council says it has cleared about 700 tonnes of "student waste" from an area of the city as part of a big summer clean-up operation.
The waste was collected from Hyde Park, a popular student area of Leeds.
Leeds City Council said some students leaving for the summer had caused "a considerable eyesore" by dumping waste.
Ben Fisher, from Leeds University Students' Union, said he welcomed the clean-up and added the union was "very aware" of the problems in Hyde Park.
The clean-up was organised by the Hyde Park Board, which was started in January 2011 and whose members include representatives from the city's universities and the police, together with residents, councillors and students.
Councillor Peter Gruen, executive board member with responsibility for neighbourhoods and housing, said more needed to be done to improve the quality of the environment in Hyde Park.
"We need the help of residents to make a real difference, by disposing of their waste properly and reporting problems when they see them," he said.
Mr Gruen said a number of clean-up operations had already taken place in Hyde Park, with graffiti and litter "hot spots" now clearly identified.
Ben Fisher, community officer for Leeds University Students' Union, said the union was working closely with the university and the council to try to cut the amount of waste dumped by students in Hyde Park.
"It's inevitable that there will be a lot of waste but we have tried to get a handle on it," he said.
"The feedback is that it's been the most successful year, so things are improving."
Mr Fisher said the union would continue to use social media and information campaigns to get the clean-up message across to students when they returned in the autumn.
Related Internet Links
The BBC is not responsible for the content of external sites.