Headstone row mother 'told to exhume' daughter's body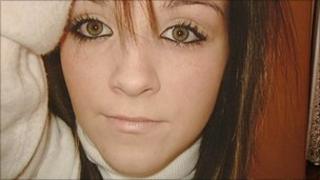 The mother of a teenager who died in a car crash says she was told she must exhume her daughter's body if she wants to give her a decorated headstone.
Jenny Howden said Wakefield Diocese had rejected a headstone featuring an angel and a photograph of her daughter at Manor Road cemetery in Ossett.
Mrs Howden, whose daughter Jessica Harris died in February, said she was not told what headstones were allowed.
The diocese said it would do all it could to find an "acceptable solution".
'Bog-standard headstone'
Mrs Howden said she had only recently been told by Wakefield Diocese that the headstone she wanted for her daughter's grave must comply with regulations.
"I knew I wanted an angel and I knew I wanted a photo," she said.
"If they had told me I couldn't have these things then I would have picked for her to be buried at Dewsbury or Flanshaw.
"I was told by the Diocese of Wakefield that if I wasn't happy, then to have her exhumed and have her moved."
Mrs Howden said the situation was "heartbreaking" so soon after her daughter's death.
She said: "Why should she have a 70-year-old woman's bog-standard black headstone when she's a beautiful young 17-year-old girl?"
The Reverend Richard Steel, from Wakefield Diocese, said: "We are very sorry for the family and all involved."
Mr Steel added that the parish had a "proper procedure" in place to ensure families knew about the rules governing graveyards before any burial took place.
"Sadly, in this case, the details seem not to have arrived with the family in time," he said.
"The vicar has spent time with the family trying to resolve the situation and produce a solution acceptable to everyone.
"Mrs Howden has the right to appeal to the Chancellor, our senior legal adviser, over the gravestone."
Mr Steel said the diocese would "gladly" talk further with the family.