Beryl Burton's cycling feats celebrated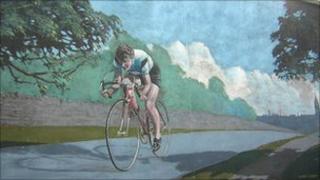 A world champion West Yorkshire cyclist is to be commemorated with the return of a plaque missing for over a decade.
The late Beryl Burton, from Morley near Leeds, won seven world titles and set many records in the 1950s and 60s.
The plaque used to be on a bandstand in the town but went missing and was thought lost.
Following an appeal in a local paper a man came forward. Having found the plaque in the street, he had rescued it and kept it in his garden shed.
The original plaque commemorates Mrs Burton's numerous cycling achievements and will now be placed inside the town hall for safety.
Morley town councillor Terry Grayshon, who started the campaign to find the missing plaque, said: "If her exploits were happening today she would have been feted all over the country."
Many records
A copy of the plaque will also be placed in the nearby Beryl Burton Garden, created after the cyclist's death in 1996, aged 58.
It was in 1959 she won the first of her five gold medals for the 3,000 metres individual pursuit.
Burton set many records including one for cycling over 277 miles (446 km) over 12 hours in 1967.
Mrs Burton was appointed MBE in 1964 and OBE in 1968.
The plaque will be unveiled on Saturday at 11:00 BST by councillor Judith Elliott, town mayor of Morley, and by Mrs Burton's husband Charlie and daughter Denise.