Skirt ban at Guiseley School after length rules ignored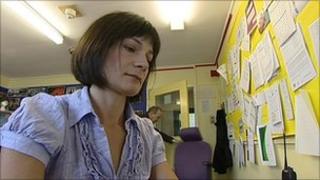 A West Yorkshire secondary school has banned girls from wearing skirts after guidance on length was disregarded.
Pupils at Guiseley School in Leeds have been told trousers are the preferred uniform option from the start of the 2011 school year and will be compulsory from January 2012.
Assistant head teacher Pippa Davies said reminders about "reasonable" skirt length had been ignored.
Year 11 pupil Hannah Burke said it was "taking away female identity".
In a letter about the ban, parents were told that skirts created an environment "focused on outward appearance".
Ms Davies said numerous letters had been sent home reminding pupils and parents that they had to wear skirts of a "specified length".
Parent opposed
"Most mothers see their daughters leaving the house in a reasonable length skirt.
"But what the girls do is turn down the top of the skirts and they become extremely short.
"Mothers are very concerned about that and we are very concerned about that because we feel it's sexualising children and it's not something we would like to encourage in school."
Ms Davies said there had been one complaint about the decision and that was due to concerns about cost.
However, Lucy Burke, whose 15-year-old daughter Hannah is a pupil at Guiseley, said she did not fully support the ban.
"I do understand why the school want to put the ban in place but I think it's in the nature of teenage girls and boys to find ways of wearing uniform inappropriately regardless."
She added: "There are better ways of managing uniforms and I think the school has been inconsistent in the way it's done it."
Daughter Hannah said: "I just think it's ridiculous because it's taking away female identity. It's like saying to men you can never wear a tie again."