Leeds A58 inner ring road 'closure' threat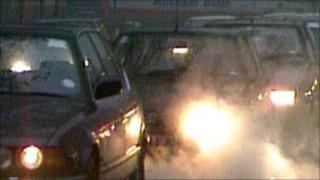 Parts of the Leeds inner ring road will have to close if £25m of "critical" repairs are not carried out, according to a Leeds City Council report.
The report says three major tunnels and bridges along the route of the A58 have deteriorated to such an extent that work must be carried out soon.
It highlights Woodhouse Tunnel, Lovell Park Road bridge and New York Road viaduct as needing major repairs.
The report recommends a bid for £18.5m of government cash so work can begin.
The A58 inner ring road is described in the report as a "key strategic route" which carries about 80,000 vehicles every weekday.
It says safety inspections of Woodhouse Tunnel and Lovell Park Road bridge already have to be carried out every three months, while the New York Road viaduct is inspected every six months.
'Huge impact'
The report, to Leeds City Council's executive board, has warned that "essential and substantial" maintenance work must be carried out on these structures within five years.
Repairs costing £1.2m are now being carried out to the roof of Woodhouse Tunnel, but the report said more work was required on this and other structures along the inner ring road.
It warns the cost of those repairs "far exceeds" anything Leeds City Council could currently afford.
The report recommends the council puts £6.45m towards the cost of repairs, while at the same time submitting a bid to the Department of Transport (DfT) for the remaining £18.5m.
If the DfT bid is successful, it is expected work would begin in 2012 and last for about four years.
However, the report warns that if the council is unsuccessful in its bid for government money, urgent maintenance work will still need to be carried out.
It adds: "This would have a huge impact on the local economy and the attractiveness of Leeds as a city to invest in, or to live and work in."
The report will be considered by Leeds City Council's executive board on Wednesday.