Halifax Piece Hall scheme draws response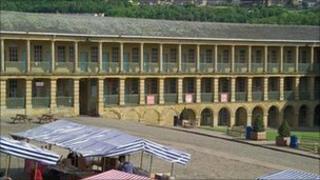 Plans to renovate and restore a landmark building in West Yorkshire have drawn more than 1,000 responses from people in Calderdale.
The Grade I listed Piece Hall in Halifax will be improved if Calderdale Council is successful in getting a £6.7m Heritage Lottery Fund grant.
The responses came within a week of the plans going on display.
Some plans include repairing stonework, improving business units and developing the courtyard for events.
The Piece Hall has been a Halifax landmark for over 230 years.
It was built to provide a notable market place for Halifax's successful trade in cloth, but is now home to shops, cafes and an art gallery.
Events take place throughout the year, ranging from celebrations, children's fun days, and concerts.
If the Lottery Heritage Fund bid is successful, work will be complete in 2015.
Councillor Pauline Nash, of Calderdale Council, said the results showed the building was well-loved in the town.
Ms Nash said: "This is a magnificent response and demonstrates just how much residents and visitors to Calderdale care about this building.
"There has been a really positive response to our plans and I am delighted that people have taken the time to find out more and let us know what they think about how this unique building may be used in the future."
The drawings are on display in units next to the Piece Hall Visitor Centre. They show the vision for the Piece Hall's future as a new town square for Halifax, a speciality retail centre and as a heritage attraction.
The drawings will be on display next to the Piece Hall Visitor Centre and Art Gallery, and at council buildings, until Friday, 7 October 2011.