Designs unveiled for Leeds waste plant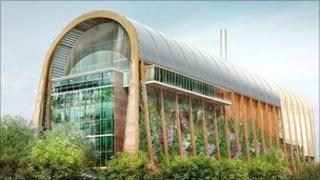 Designs for a waste treatment plant which could provide power to thousands of homes in Leeds have been unveiled.
Leeds City Council published the artist's impressions as it announced Veolia Ltd as its "preferred bidder" to build the plant.
The council said the incinerator, at Cross Green, would save it £200m over 25 years by avoiding landfill taxes.
But anti-incinerator campaigners said the plant was a "false solution" to dealing with the city's waste.
The city council said the hi-tech plant would reduce the city's carbon dioxide emissions by diverting waste from landfill, which it said was equivalent to keeping 29,000 cars off the road each year in Leeds.
It said the plant would also generate enough electricity to power 20,000 houses.
Veolia's design includes a greenhouse-style main building made of glass and wood, covered with a "living green wall" of plants.
The building would include a chimney about 213ft (65m) high, though its final height would be determined by the Environment Agency.
'Air pollution'
Carla Doran, from No Incinerator Leeds, said residents were worried about the plans.
"Our concerns are increased traffic day and night, air pollution from the incinerator and from the traffic, and that it would be a quarter of a mile from the nearest housing estate and the local park," she said.
"We also believe incineration is a false solution to dealing with waste and produces climate-changing emissions and gases."
The government will now consider whether to approve the city council's recommendation for preferred bidder.
If approved, the recommendation will be put before the council's executive board in November.
Veolia will then need to carry out a full public consultation and submit detailed planning applications.
If the plant gets the final go-ahead, it is expected to be running by spring 2016.