Bradford gritters make winter weather dry run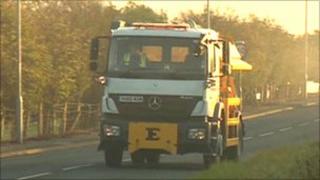 Gritting teams have taken to the streets of Bradford in a dry run to test their readiness for winter.
Bradford Council's highways staff took part in the exercise, driving the council's fleet of 26 gritters around the district's main roads.
The dry run was designed to familiarise gritting teams with routes and to make sure there were no obstacles.
The council said by gritting a short section of road, each team would also be able to check all equipment.
Louise McCall, divisional manager for highways and maintenance, said: "We want staff to get to know the routes and make sure they're 100% familiar with where they're going to be going in the next few weeks."
Bradford Council said it was currently storing 26,000 tonnes of grit in readiness for winter, the largest amount it had ever held.