Bradford shifts educational goalposts for free schools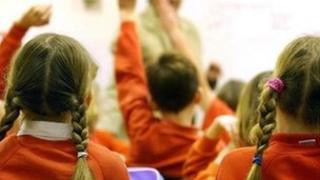 Labour-led Bradford council says so many of its schools are full that it will have to co-operate with Education Secretary Michael Gove's plans to allow at least five free schools to open in the city by next September.
Two of the free schools opened their doors at the start of the current school year. Two weeks ago, the government agreed to back the bids for three more.
It means Bradford will have the highest concentration of free schools outside London.
Ian Greenwood, leader of Bradford City Council, said: "We disagree with the idea of public money being spent on any school over which we have no influence at all as the education authority.
"But this is all about the kids. We need new schools but there's no way we can afford to build them ourselves under current government funding so we will co-operate with the groups setting up the free schools to get the best deal we can."
All the groups which have been given the go-ahead to set up free schools have said they are providing for educational needs which Bradford's state schools do not adequately offer.
Disengaged children
Wayne Jacobs is a driving force behind a plan to open a school which will be located at Bradford City Football Club's Valley Parade ground.
He said: "I found that during my school days there was nothing to fit my skills set.
"I had a gift for football but academic studies were not for me. I was lucky to be signed as a schoolboy by Sheffield Wednesday, or I have no idea what my future might have been."
Mr Jacobs played more than 400 times for the club and from 2007 had a spell as assistant manager.
A committed Christian, during his playing days he championed the idea that faith and football were not incompatible.
Six years ago he helped found the One in a Million charity, which is already based at the football club and runs a number of sports and arts projects on some of Bradford's poorest housing estates.
Matthew Band, a former businessman who is now chief executive of the charity, said: "It seemed like a logical step to us to put forward a bid to set up our own free school when the government announced its policy."
He said the school would be aimed at children who were in danger of becoming disengaged from formal education.
At its core will be life skills, sport, the arts and vocational skills.