Prince Henry's Grammar School teachers' academy strike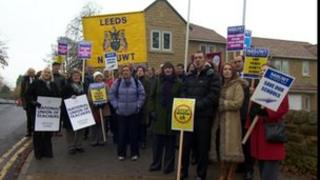 Teachers at a West Yorkshire school have staged a one-day strike over plans to turn the school into an academy.
Staff at Prince Henry's Grammar School in Otley are taking six days of action in November over fears the change could affect their pay and conditions.
Head teacher Janet Sheriff said there was "no intention whatsoever" of changing terms of employment for staff.
But the NUS and NASUWT unions said there was "almost unanimous opposition" to the move at two public meetings.
'Good value'
The change to an academy would see funding go direct to the school rather than via Leeds City Council.
Prince Henry's Grammar School, founded in 1607, is a specialist language college of 1,400 students.
Ms Sheriff said the academy move would ensure the school got "good value for money" and "improve job security".
In a vote on the proposal 10 school governors voted for the change with nine against.
The unions said that a staff survey carried out by the school showed that about two thirds of the teachers were opposed to the move.
Teacher Sian Ellis, whose three children attend the school, said: "The worry of most parents is that it gives the head teacher power but the head teacher doesn't listen to what parents and the wider community wants."
The unions have given notice that 64 teachers are taking part in the strike action.
The school is closed to Year 9, 10, 11 and the sixth form and students in these year groups are expected to study at home.
The school is open to Year 7 and Year 8 as normal.
A two-day strike has been announced for next Wednesday and Thursday with a three-day strike on Tuesday, Wednesday and Thursday the following week.