Prince Henry's Grammar School strike over academy plan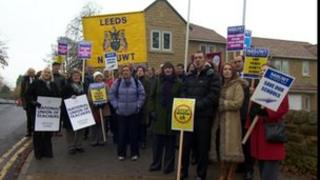 Teachers at a West Yorkshire school have gone on strike in a second day of protest over proposals to turn the school into an academy.
Staff at Prince Henry's Grammar School, Otley, plan to take six days of action in November over fears the change could affect their pay and conditions.
Head teacher Janet Sheriff said earlier there was "no intention whatsoever" of altering terms of employment for staff.
The school said pupils would not miss out as no lessons were planned.
'Value for money'
About two thirds of the teachers at the school staged their first strike against the proposals on Thursday.
The NUT and NASUWT unions said there had been "almost unanimous opposition" to the academy move at two public meetings.
In a vote on the proposal, 10 school governors voted for the change while nine were against.
Ms Sheriff said the academy move would "improve job security" and would ensure the school got "good value for money".
Prince Henry's Grammar School is a specialist language college with about 1,400 students.