Jailed Wetherby man William Burton gets Philippines pardon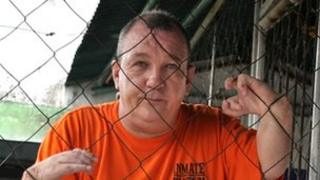 A man from West Yorkshire who was jailed for life for smuggling drugs in the Philippines has been pardoned by the country's president.
William Burton, from Wetherby, was jailed for 30 years in 1992 after being caught trying to smuggle 12lb (5.4kg) of cannabis out of the country.
Burton, 48, who has a Thalidomide-related condition, must not return to the Philippines, a spokeswoman said.
The pardon was granted as a "Christmas clemency" by President Benigno Aquino.
Burton must also pay a £294 fine and pay for his journey home to the UK.
'Done his time'
Guy Tweedy, who set up the Free Billy Burton campaign group, said he welcomed the news.
"While we don't condone what he did, he's deteriorated as a Thalidomider and we had to get him out," he said.
"I've never met him but I just felt that, looking at his case, he's done his time."
Mr Tweedy, from Harrogate, North Yorkshire, said he would "absolutely, definitely" be there to meet Mr Burton when he returned home.
Freddie Astbury, president of Thalidomide UK, said he hoped Mr Burton could come back home as quickly as possible.
"We were very concerned about his health because it had deteriorated rapidly since being in prison," he said.
"Obviously, nobody supports why he was there but, at the end of the day, his health's deteriorated and he needs to be in a safe environment now and get all the help that he needs."
Jeremy Brown, Foreign Office minister, said he had discussed Burton's case with the Filipino government during a recent trip.
"I welcome the news that President Aquino has decided to grant Billy Burton clemency," he said.
"I know that this news will be warmly welcomed by Billy's family and his supporters at the Thalidomide Trust who have campaigned tirelessly on Billy's behalf."