Bad weather closes Occupy Leeds camp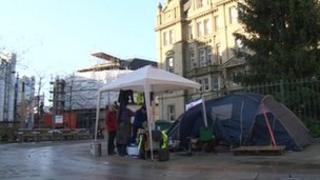 Persistent bad weather has prompted the organisers of the Occupy Leeds protest group in City Square to close the camp.
A spokeswoman said after two months of "successful occupation" the protesters had voted to end the encampment, but continue with alternative tactics.
The Occupy movement wants to highlight inequality and corporate greed.
The Leeds group who were packing up on Thursday said bad weather "had made the camp unsafe for residents and uninviting for the public".
A spokesman for Leeds City Council said in November that the camp was not causing any problems "at the moment".
In a statement, the Occupy Leeds group said: "At its general assembly on 4 January, the Occupy Leeds movement voted unanimously and with regret to close the current camp at City Square after approaching two months of successful occupation, in order to concentrate on alternative tactics.
"Spending all our resources simply surviving as a camp was never our intent and currently feels counter productive to what we are trying to achieve."
"The aim of Occupy Leeds was always to champion direct democracy, seek local views on global issues and to make a stand against corporate greed.
"We hope that closing our physical camp will allow us to concentrate our energy on raising this debate - and our activity as a movement - to new levels during 2012."
The group said it would continue to meet on Saturdays and Wednesdays in City Square until further notice.