Murder inquiry after body found in Bradford fire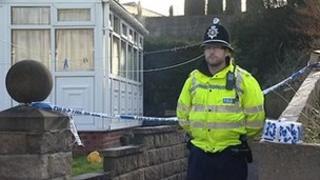 A murder investigation has been launched after the body of a man with neck injuries was found in Bradford on Thursday, West Yorkshire Police said.
Firefighters found the body of the 28-year-old man when they went to a house in Rylestone Gardens, Undercliffe, at about 13:00 GMT to put out a fire.
The man named locally as Amjad Hussain was pronounced dead at the scene.
A post-mortem examination will be conducted and police are appealing for information from the public.
It is believed the man was the only person in the house at the time of the fire and detectives are now comforting his relatives.
Det Supt Paul Taylor said: "We know where this happened and when it happened, we now need to know why it happened.
"The victim, a much loved husband and father, was brutally attacked in his own home."