Pakistani community plea over Bradford man's murder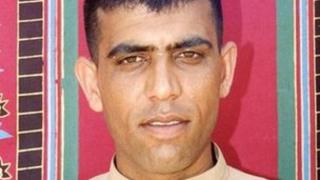 Bradford's Pakistani community has been urged to help police unmask the murderer of a 31-year-old father.
Amjad Hussain's body was found at his home in Rylstone Gardens on 12 January after a fire at the property.
Mr Hussain died from shock and blood loss after suffering a neck injury. West Yorkshire Police said the fire had been started to destroy evidence.
The force has appealed for information about the killing and set up phone lines staffed by Pakistani speakers.
Members of the Pakistani community who want to speak in their native language can call 01924 334711 until 23:00 GMT on Saturday.
Business dealings
Det Supt Paul Taylor, who is leading the inquiry, said: "I can promise all information received will be handled sensitively and I would urge anyone who knows Amjad or had details about his lifestyle and business away from work and home to contact us as a matter of urgency.
"Someone out there knows why he died and we need to hear from them."
Mr Hussain, who had a nine-year-old son, was from the Mirpur district of Pakistan, married in Pakistan and came to Bradford 10 years ago.
A team of 40 are working on the police investigation.
Mr Taylor said: "This was a hard-working man who we believe had a number of private business dealings which are something of a mystery to us at the moment and may prove significant to inquiries.
"These were to support his family and it is vital we learn more about these to uncover why someone would want to kill him.
"Amjad was murdered in a particularly brutal and calculated fashion and we need to get the person responsible off the streets as soon as possible."