Budget confirms Leeds City Council cutting 400 jobs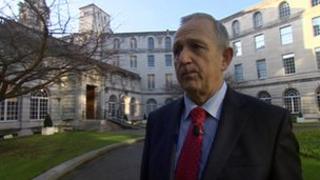 Leeds City Council has confirmed it will cut 400 jobs in the next financial year as it attempts to save £55m.
The authority has revealed details of its proposed budget, which is likely to be ratified on 22 February.
The council previously said it would cut 2,500 full-time equivalent posts by March 2015. Of those, 1,500 have already been lost.
The budget includes an £18.6m increase in spending on children's services and adult social care in the city.
About £1.75m has been earmarked to create more apprenticeships and an extra £500,000 will be spent on major improvements at Kirkgate Market.
A commitment of £180,000 has been made for Olympics-based activities.
Significant challenge
Full details of the proposed budget can be viewed on the Labour-run council's website.
The savings will be in addition to the £90m cuts the authority has had to make in 2011-12.
Councillor Keith Wakefield, leader of the council, said: "Everyone will be aware that last year's financial challenge, in terms of savings we needed to make, was unprecedented in its severity.
"We had to make lots of exceptionally difficult and painful decisions, and I'm afraid the bad news is that the challenge facing us is only going to get tougher in the years to come. We will keep having to make cuts to an annual budget getting ever smaller.
"This year we have again focused on protecting the most vulnerable members of our communities, and doing what we can to limit both price rises and cuts to frontline services."
The challenge to protect services, he said, remained "a significant one".