Prison camp survivors given Siberian Cross in Bradford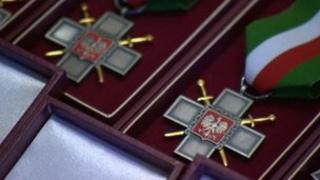 Survivors of Soviet prison camps, and their families, have been presented with Siberian Crosses in West Yorkshire more than 70 years later.
The Polish government medal honours more than one million Polish civilians sent to Russia by Stalin after 1939.
Marilyn Gwizdak-Greenwood received her father's posthumous medal at the Polish Club in Bradford alongside three generations of her family.
She said: "It is a terrible story but a fascinating and interesting one."
The 22 medals were presented by the Polish consulate from Manchester and the president of the Polish Ex-Combatants Organisation.
Katyn massacre
Ms Gwizdak-Greenwood said: "This is not just about our father. Many hundreds of these Polish men, women and children with no homeland to return to, settled in Yorkshire after the war. We are very proud of them."
He was born in Poland in 1923 but, aged 16, he and his family were deported to a labour camp in Siberia.
He was in a prison camp for two years during which time his younger brother died and his father was executed as part of the Katyn Forest Massacre that claimed 22,000 Polish lives.
The killings at Katyn were carried out by the Russian secret police, the NKVD, on Stalin's orders.
The Soviet Union blamed the massacre on Nazi Germany before acknowledging responsibility in 1990.
When Russia joined the allied cause in World War II, Mr Gwizdak was released and made the long journey to the Middle East where he eventually enrolled in the army set up by General Wladyslaw Anders to fight for the British on behalf of the Polish government in exile.
Jozef Gwizdak joined the 1st Polish Paratrooper Corp at the age of 19, and was wounded in the battle for Arnhem.
After the war he settled in Halifax, West Yorkshire.