West Yorkshire railway graffiti taggers given Asbos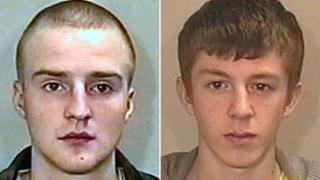 Two graffiti vandals from West Yorkshire who targeted the rail network for 18 months, causing more than £14,000 of damage, have been sentenced.
David Broadbent, 20, of Brook Street, Brighouse, and Paul Scott, 18, of Tyersal Avenue, Bradford, were given five-year Anti-social Behaviour Orders.
Broadbent was also given a 10-month jail term, suspended for 18 months.
Both men, who admitted criminal damage at Leeds Crown Court, were ordered to carry out community work.
'18-month headache'
Broadbent and Scott were investigated by British Transport Police after they were caught on CCTV tagging a shop in Leeds.
They were arrested in July 2011 and a search of their homes found spray paint cans and photos of their tags painted on trains and rail bridges.
After sentencing Det Con Jason Ridgeway said: "These vandals carried out a spree that caused rail operators an 18-month headache.
"The damage and clean-up costs... have to be borne by someone and that someone is ultimately the fare-paying passenger."