Woodlesford accountant stole clients' cash for luxuries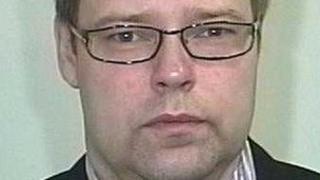 An "incredibly deceitful" accountant who took hundreds of thousands of pounds from clients to fund his luxury lifestyle has been jailed.
Darren Upton, 40, Holmsley Lane, Woodlesford, near Leeds, arranged for cash that clients paid him to settle tax bills to be paid into his bank.
He spent thousands on luxuries, including lavish spending on his mistress, Leeds Crown Court heard.
Upton was jailed for six years after admitting fraud and contempt of court.
His spending included a box at Leeds United's Elland Road ground and a model railway.
He and his wife Tina drove a Bentley and a Maserati with personalised number plates, the court was told.
Personal friends
Judge Sally Cahill QC also heard how Upton, a married father of one, met a part-time model on the internet and set her up in a flat in Salford as well as buying her a car, underwear and handbags.
His affair was only discovered when his mistress contacted his office and got hold of Mrs Upton.
The court heard the total loss to clients and Her Majesty's Revenue and Customs (HMRC) was more than £500,000.
He admitted 15 counts of fraud and another of contempt of court relating to breaching a restraining order. He also asked for a number of other offences to be taken into consideration.
The court heard how Upton was the director of Wakefield-based Upton and Co accountants which had about 800 clients which were mainly small businesses.
Police said the clients he deceived felt cheated, especially as many were personal friends.
Upton had been to the wedding of one of the victims.
His clients believed they were giving Upton cash to pay corporation tax bills but they were paying the money into Upton's business account.
Det Sgt Gary Ferris, of West Yorkshire Police, said: "Upton abused his position as a trusted accountant to steal hundreds of thousands of pounds, not only from his clients but from his own personal friends.
"He was incredibly deceitful, tricking them into depositing cash into his business' bank account under the pretence that they were paying their corporation tax.
"Not only was he stealing monies from his clients, he was also blackening their names with the HMRC and continued to carry out his crimes even when he was on bail."