'Despicable' attack on PC Ian Broadhurst memorial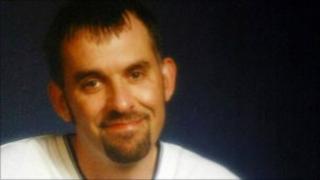 A memorial to a policeman who was murdered in Leeds has been vandalised for a second time.
PC Ian Broadhurst was shot dead by former US marine David Bieber in the Fearnville area of the city on Boxing Day 2003.
West Yorkshire Police said paint was poured over his memorial stone, which marks the place where he was killed, between Thursday and Friday afternoon.
The force said the vandalism was "as despicable as it's possible to get".
The paint has since been cleared.
In December 2010 the memorial was left "blackened" after someone ignited an accelerant which had been poured over it.
Three life sentences
Ch Supt Richard Jackson urged anyone with information about the latest attack to come forward.
He said: "Police officers go to work every day never knowing what could happen and thankfully few ever make the ultimate sacrifice made by Ian Broadhurst.
"The memorial is a way for local people, local officers and Ian's friends and family to mark the terrible events of December 26, 2003 and for someone to deliberately vandalise the memorial is about as despicable as it's possible to get.
"I would ask the local community to come forward with any information they may have on those responsible so we can ensure they are brought to justice."
PC Broadhurst, 34, and his colleagues PC Neil Roper and PC James Banks were shot by Bieber after they noticed his vehicle was displaying false number plates while parked on Dib Lane. PC Broadhurst's colleagues survived the shooting.
Bieber, 42, was later found guilty of murder and attempted murder and was sentenced to three life sentences with a recommendation that he should never be released.
The judgement was overturned in July 2008 by the High Court which ruled he should serve a minimum of 37 years in prison before being considered for parole.