BBC Sport Relief: Radio presenters carry out pedalo test run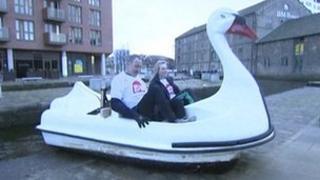 Two BBC Radio Leeds presenters are taking to the water to carry out a test run of a challenge which will see them travel 127 miles (204km) in a pedalo.
Adam Pope and Katherine Hannah aim to navigate along the entire length of the historic Leeds-Liverpool Canal in aid of BBC Sport Relief 2012.
The pair will be taking out the swan-shaped pedalo, called Grace, from Kirkstall to Armley on Wednesday ahead of the challenge which starts on 14 March.
The original test run in January had to be aborted when the boat sprang a leak.
It has since undergone repairs.
Travelling at an average speed of about 2mph (4km/h), and negotiating 91 locks along the way, Pope and Hannah aim to complete their journey in just 10 days, collecting cash for Sport Relief along the way.
They will start their journey at the Albert Dock, Liverpool, and travel from the centre of Liverpool to Wigan and Blackburn before heading back to Yorkshire.
The pair have been training for what they say will be their toughest physical challenge.
'Get cracking'
They have taken advice from a range of professionals and have been put through their paces by Wakefield Trinity Wildcats players.
Hannah, who presents the BBC Radio Leeds Breakfast Show, said she could not wait to "get cracking".
"I've been training almost every day at the gym or out on my bike, I just hope it's enough to get me fit for 127 miles of constant pedalling," she said.
"I have to admit I'm scared of just how difficult it's going to be."
Pope, who is a breakfast and sports presenter at BBC Radio Leeds, said training for the challenge meant he had reached his fitness peak.
"The challenge is hurtling towards me now and the reality that we are weeks away from starting our journey is stark," he said.
"I do feel in good shape and fitter than I have done since my 20s, bearing in mind I'm now in my mid 40s.
"All those dark, freezing nights running between three and seven miles up and down hilly streets of Huddersfield will have hopefully paid off."
He added: "The shock of being on Grace when she sank at the launch has been tempered by the comfort of seeing her repaired.
"If she's fit for purpose, along with me and Katherine, then it's all down to our mental toughness to see us through."
Follow the presenters pedal-powered journey on BBC Radio Leeds, BBC Look North and at bbc.co.uk/leeds from 14 March.