Kirklees greenbelt homes plan gets go ahead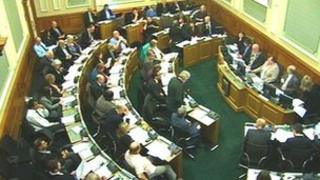 Plans to build 22,500 homes in West Yorkshire over the next 20 years, including 1,500 on greenbelt land, have been given the go-ahead.
Kirklees Council approved the proposals at a lively meeting lasting seven hours in Huddersfield on Tuesday night.
Campaigners against the plans had said the building programme would lead to "urban sprawl".
But Labour council leader Mehboob Khan said it was the "best decision for future generations".
"These decisions are never easy and they have to be taken for the long term," he said.
'Very disappointed'
Mr Khan added that the council had "listened intently" to the views of supporters and objectors to the plans before the vote and, as a result, had moved away from its original proposal to build 35,000 homes.
Opposing the plans, Rod Lilley, from the Chidswell Action Group, said he was "not surprised, but very disappointed" by the council's decision.
Mr Lilley said campaigners against the proposals would meet again on Friday to discuss their next move.
He said the building programme would prove to be a big issue at the May local elections.
"We will deal with this at the ballot box," he said.