Hepworth Wakefield art gallery wins two Civic Trust awards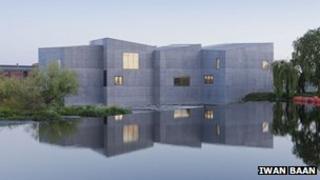 The Hepworth Wakefield art gallery has won two national Civic Trust design awards for its architecture.
The £35m gallery was designed by David Chipperfield Architects, who was also behind the Turner Contemporary gallery in Margate.
It was awarded a prize for excellence in architecture and was one of six buildings in the competition to be chosen for a special award.
Judges described it as "a wonderful place in which to experience art".
The gallery was one of 52 projects across the world to be awarded by the Civic Trust.
The shortlist was then whittled down to six for the special award category.
The judges described the design of the building as "powerful" and "outstanding".
'Delighted'
Simon Wallis, director of The Hepworth, said: "Receiving a special award as well as a Civic Trust award is a remarkable double honour for a superb building and the contribution it makes to the quality of life in the region.
"We are delighted that The Hepworth is recognized as a wonderful place to enjoy art."
Leader of Wakefield Council Peter Box said: "I'm delighted that The Hepworth Wakefield has won these prestigious awards, it reaffirms not only the high quality design of our building, but also the positive cultural, social and economic contribution to our local community."
The Hepworth has attracted more than 400,000 visitors since it opened last May.
The gallery, named after sculptor Barbara Hepworth who was born in Wakefield, contains dozens of Hepworth's works and prototypes as well as pieces by Henry Moore and JMW Turner.