Watchdog's warning to improve Dewsbury hospital maternity unit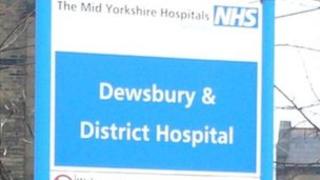 A health watchdog has told the trust responsible for Dewsbury and District Hospital to make "urgent improvements" to its maternity services.
The Care Quality Commission (CQC) has issued a formal warning to The Mid Yorkshire Hospitals NHS Trust following three visits last month.
Inspectors found staffing levels did not always meet patients' needs.
The trust said it had "implemented an action plan to address the areas highlighted".
The CQC said the inspections were carried out to check whether improvements required following a previous review of compliance had been made.
It said although inspectors found patients were receiving safe care, there was concern of an increased risk of patient safety being compromised.
Concerns included periodic closure of the delivery suite to new admissions due to lack of staffing and high levels of staff sickness.
Some women attending the triage unit had to wait several hours in a nearby corridor before being seen by a registrar.
Stephen Eames, interim chief executive at the trust, said improvements were being made to address staffing issues.
He said: "I am confident that the improvements we have put in place will strengthen our maternity service at Dewsbury."
Last month the chief executive of the trust stepped down from the role.
Julia Squire's departure came as the trust faced mounting criticism over the closure of its A&E department at Pontefract hospital.