New Anglican diocese of Leeds plan approved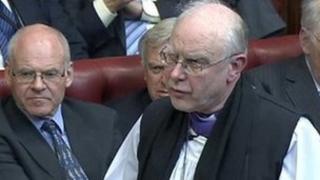 Anglican leaders in Ripon and Leeds have approved plans for a new larger diocese.
The Church of England Dioceses Commission is proposing to abolish the dioceses of Bradford, Wakefield and Ripon and Leeds.
A new single diocese of Leeds, serving West Yorkshire and large parts of North Yorkshire, would be created instead.
The synod of Ripon and Leeds approved the plan subject to assurances about diocesan jobs.
The Right Reverend John Packer, Bishop of Ripon and Leeds, is among those supporting the proposals.
Speaking to the diocesan parliament, he said: "I do believe that the Dioceses Commission has worked very hard to listen to what we said and what others said last March and in various discussions and debates which have taken place since then.
"I continue to believe that this is going to be an encouragement to our mission in West and North Yorkshire."
Clergy and lay members of the synod said they wanted to ensure there would be no compulsory redundancies of diocesan staff within two years of the new diocese being created.
A final proposal is expected to be produced by the Dioceses Commission later this year which would be considered by the general synod of the Church of England in 2013.