Day Four: Radio Leeds Canal pedalo challenge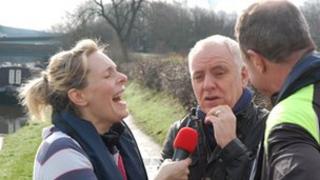 BBC Radio Leeds breakfast show presenters Adam Pope and Katherine Hannah start day one of their pedalo challenge.
The pair will travel all 127 miles (204km) of the Leeds-Liverpool canal in a swan-shaped pedalo called Grace.
Day Four, Saturday 17 March: Adlington to Nova Scotia
Day four done and dusted, and another tough one for the team.
A 07:00 GMT start in Adlington in the pouring rain left the pair somewhat downcast.
But as the sun came out, and friends, colleagues and well-wishers gathered at various points along the canal, the mood lifted a bit so they completed the 14 miles (22km) to their ending point at Nova Scotia in Blackburn.
Katherine said: "It was one of those days where we had a great morning, meeting Dave Spikey and seeing friends from work, but then later in the day my legs were really sore and it was raining and just a bit miserable. I need curry and a gin and tonic."
Adam said: "Today felt very mentally and physically better for me.
"It was great to see my sister there for the fourth day and lots of colleagues from work.
"It was also a weird day as most Saturdays I'd be at a football game and I was gutted for Katherine that Leeds United didn't win as that would have been a real boost for her.
"Going through the £6,000 mark for our fundraising was also really special."
There will be no day of rest for Adam and Katherine on Sunday with another 13 miles (21km) to get through as the route takes them from Nova Scotia in the centre of Blackburn to Rose Grove near Burnley.
Should they need any inspiration on Sunday, then the halfway point of the canal should provide it - the end is in sight. Well, almost.
You can follow Adam and Katherine's progress on the BBC website, on BBC Radio Leeds 92.4 FM & 774 AM and on BBC Look North.