North Yorkshire Moors Railway appeal for coal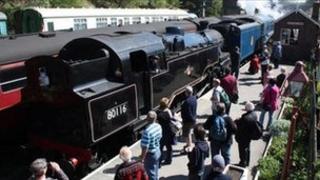 Rising fuel costs has prompted a fundraising appeal by the North Yorkshire Moors Railway to help power its steam engines.
The railway uses about 2,500 tonnes of coal per year to fuel its engines, which run on the 24-mile stretch between Pickering and Whitby.
General manager Philip Benham said the charity did not want to put up fares to cover the costs.
It is hoped public donations will raise £350,000 towards the fuel costs.
The railway is able to claim back about 24p of tax per donated pound made by UK taxpayers using the gift aid scheme.
Mr Benham said: "In the last five years, an average litre of diesel has risen from 97p in 2007 to £1.43 per litre today, which affects the diesel engines that we operate.
"The difference in coal has been even more pronounced, doubling in price which massively increases our running costs."