Day Seven: Radio Leeds Canal pedalo challenge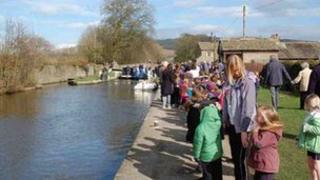 BBC Radio Leeds breakfast show presenters Adam Pope and Katherine Hannah are on their pedalo challenge.
The pair will travel all 127 miles (204km) of the Leeds-Liverpool canal in a swan-shaped pedalo called Grace.
Day Seven, Tuesday 20 March, Greenberfield Locks to Skipton
It may not be the "official" Yorkshire Day, but it was for Katherine and Adam as after six days in Merseyside, Greater Manchester and Lancashire, they crossed the border into North Yorkshire soon after 9am.
It was a gruelling day for the pair as they battled with exhaustion and pain to complete the stretch from Greenberfield Locks to Skipton, but a fantastic Yorkshire welcome spurred them onto the finishing line for Day Seven.
Crowds of well-wishers gathered along the route with gifts of chocolate, energy bars, ice packs and medical strapping in an effort to see the team home.
Adam said: "It was always going to be emotional coming back into Yorkshire, but to see so many people come down to meet us and to throw money in our buckets for Sport Relief was amazing.
"There's real pain in our thighs and knees, but then seeing that amazing support made us forget about the agony."
Katerine added: "I really hadn't expected to see so many people along the way, and the reception we got in Gargrave was something else.
"Being back in Yorkshire feels like being home again, and we raised a lot of money."
Just three days to go now, and it really seems unbelievable that the team have "just" 28 miles (45km) to go back to Leeds.
The Skipton to Bingley stretch may be relatively short but, with no locks to rest up at, it will be another tough 12 miles to get through.
You can follow Adam and Katherine's progress on the BBC website, on BBC Radio Leeds 92.4 FM & 774 AM and on BBC Look North.