Day Eight: Radio Leeds Canal pedalo challenge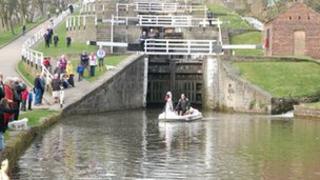 BBC Radio Leeds breakfast show presenters Adam Pope and Katherine Hannah are on their pedalo challenge.
The pair will travel all 127 miles (204km) of the Leeds-Liverpool canal in a swan-shaped pedalo called Grace.
Day Eight, Wednesday 21st March, Skipton to Bingley
What a day for the team on their return to West Yorkshire.
Large parts of the route were lined with people cheering them on including hundreds of school children in Silsden and Crossflatts.
With no locks to give them a respite from the pedalling, it was yet another gruelling 12 miles from Skipton, but it was made worthwhile by a crowd of several hundred well-wishers cheering them at Five Rise Locks in Bingley.
Adam said: "It was just the most unbelievable experience of the whole journey so far as crowds came out in force.
"The schools, the people lining the bridges and the huge crowd in Bingley, it was amazing.
"We were supposed to do 12 miles today but it was more like 14 with all the zig zagging we had to do to collect money from people lining the sides of the canal."
Katherine said: "The highlight of the day has been seeing all the people along the route who turned out to support us.
"I was absolutely stunned by the sheer number of people and the money they've given as well as the gifts they've brought along. Really overwhelming.
"My body is in a bad way and my knees are very, very sore but having all those people turn out to see us has helped me keep going."
There is another early start in store on Thursday as the team makes its way from Bingley to Apperley Bridge via Saltaire and Shipley.
You can follow Adam and Katherine's progress on the BBC website, on BBC Radio Leeds 92.4 FM & 774 AM and on BBC Look North.