Income hope for Wakefield Cathedral after £2.5m restoration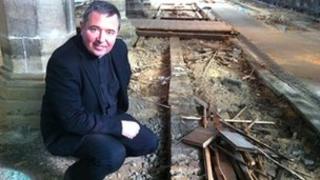 The multimillion-pound restoration of Wakefield Cathedral will make it commercially viable and help secure its financial future, its dean has said.
The cathedral has raised £2.5m to pay for restoration work to the nave, which is expected to take 14 months to complete.
The Very Reverend Jonathan Greener said organisations and businesses would then be able to use the space.
He said he had considered the "morality" of the move but it was an opportunity to gain much-needed income.
"With a clear space here we will be able to allow other organisations to use us," he said.
Focal point
"People ask me about the morality of that. Is that a right thing for a cathedral, for instance, to let a car firm launch a new car which was discussed with us recently.
"My feeling is that we have to use the opportunities that we are given to bring in income in order that were here long term to serve the people of the city and the diocese in the purpose that we were built for."
Mr Greener said the cathedral relied on outside funding for "anything but the most basic day-to-day running costs" and he was grateful to the Heritage Lottery Fund and others who had helped pay for the restoration.
He said restoring the nave - for the first time since the 1870s - would make the cathedral "a building that will be useable by us for worship but also by everyone in Wakefield and in the diocese for community events, conversations, celebrations that kind of thing".
Susan Parker, the cathedral's development officer, said there was "absolutely no point" in the cathedral just being a Christian building.
She said: "It's part of our heritage as a nation that we have these churches and everybody understands the faith element is a part of it and that will never die here. However, this place is open to everybody and we are not going to force people into religion.
"We are the meeting place for the city. If you come here in the summer everybody is sat having their lunch on our steps.
"We are a focal point and we just want to be that place where people can come and meet regardless of their faith. We just want to be open for the whole city."