Heathcliff actor James Howson's arrest ordered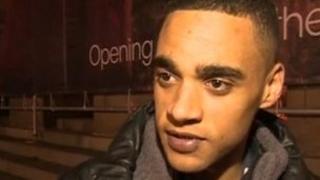 An arrest warrant has been issued for an actor who failed to turn up in court for sentencing, after he racially abused his ex-girlfriend.
James Howson, 24, of Haslewood Close, Leeds, earlier admitted racially aggravated harassment and was due to be sentenced at Leeds Magistrates' Court.
The court heard in January he shouted threats at his former girlfriend.
Howson starred as Heathcliff in a film adaptation of Wuthering Heights released last year.
He won the role after attending auditions advertised on a Jobcentre wall and was the first black actor to play the role in a film based on Emily Bronte's novel.
Mental Health Act
The court heard that Howson's relationship with Shakira Ramdihal turned sour after she became pregnant.
Howson went to her family home on 18 November last year and banged on the window, shouting racist threats.
He was initially due to be sentenced last month, but the case was adjourned after he was sectioned under the Mental Health Act.
His solicitor said he was discharged from a hospital in Newcastle on Thursday.