Trust warned over Leeds General Infirmary care standards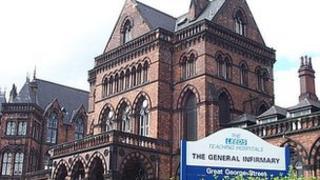 A health watchdog has warned the trust responsible for Leeds General Infirmary to improve care standards there or face "serious consequences".
Inspectors from the Care Quality Commission (CQC) found "poor care and sometimes insufficient staff" during visits to the hospital in early 2012.
Leeds Teaching Hospitals NHS Trust was told to address these issues or face further action, the commission said.
The trust apologised "unreservedly" to those patients and families affected.
Earlier inspection
The warning followed unannounced inspections at Leeds General Infirmary (LGI) on 29 February and 1 March, the commission said.
Inspectors visited to check what progress had been made after concerns were raised with the trust during an earlier inspection at the hospital.
Among its findings, CQC inspectors found the needs of some elderly patients in orthopaedic wards at the LGI were "not responded to appropriately or promptly".
They found some patients were "dissatisfied" with the care and support they had received and that their wishes were "ignored" by nursing staff.
A review of staffing rotas on wards 53 and 55 at the LGI also revealed both wards were frequently operating under the trust's planned staffing levels, the CQC said.
'Clear message'
Jo Dent, CQC regional director for Yorkshire and Humberside, said all care providers had a duty to comply with legal standards.
"This warning sends a clear message that Leeds Teaching Hospitals NHS Trust needs to address these issues or face serious consequences," she said.
Ruth Holt, chief nurse at Leeds Teaching Hospitals, said staff absence during the CQC visit had been "too high" in two out of the three wards the inspectors visited, leaving remaining staff "thinly spread".
Ms Holt said the trust had also been "extremely concerned" at the inspectors' findings that care on another ward was poor and the trust had immediately stopped admissions to that ward, which was now closed.
A detailed review of every ward across the trust had been carried out since the inspection and a "safe and appropriate" standard of care for patients at the LGI was "top priority", said Ms Holt.
The trust has been set a deadline of 31 March for improvements to be made at the hospital, said the CQC.