Gary Barlow's early tape recordings auctioned in Leeds for £800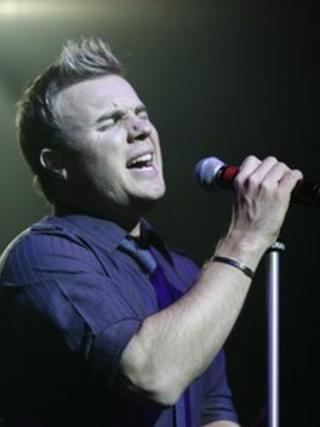 Unreleased tape recordings made by Take That's Gary Barlow in the 1980s have sold at auction for £800.
The two cassette tapes contain two hours of songs recorded between 1986 and 1987 - years before the singer joined the famous boyband.
Leeds-based auctioneer Gary Don said the tapes had attracted "a tremendous amount of interest". They were sold to a telephone bidder.
They had previously sold by a family friend for £1,900 at auction in 1996.
The tapes feature 32 tracks, made up of some original material as well as covers including Bridge Over Troubled Water by Simon and Garfunkel, Chris De Burgh's Lady In Red, and Ghostriders In The Sky by The Shadows.
The music was recorded when he was 15 years old and given to a fan and family friend, who later sold them at Christie's auction house in London.
They were bought by film producer Richard Driscoll, who decided to sell them. He had originally hoped the tapes would fetch £2,000 but said he was not too concerned by the loss.
"I'm not going to get upset about it, it's just one of those things. Sometimes that happens when you're a collector," said Mr Driscoll.
"It's better than nothing."
'Fantastic fan'
Mr Don said the considerable drop in price since 1996 was understandable given the lack of cassette players currently on the market and the quality of the recording.
"It's really unusual to come across this kind of sale," said Mr Don.
"He had a fantastic fan that used to go to all his gigs so he just gave her these tapes and said to her one day, 'put these in the bank, these might be worth a lot of money'."
The sale also included an autograph by Gary Barlow, a catalogue of the original auction at Christie's and a bill from that sale.