Former soldier Aaron Wilkinson cleared of murder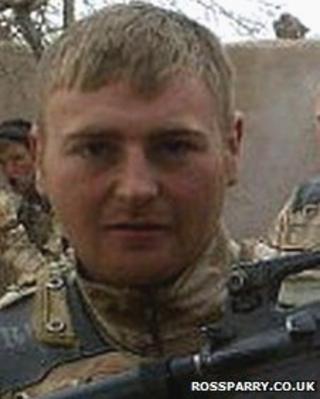 A former soldier who was suffering from post-traumatic stress disorder when he shot and killed his landlady has been cleared of her murder.
Aaron Wilkinson, 24, of Alma Street, Woodlesford, was cleared of murdering 52-year-old Judith Garnett who was hit in the chest and head.
He had admitted manslaughter on the grounds of diminished responsibility.
Wilkinson, who had served in Afghanistan, told Bradford Crown Court he was not in control of his actions.
The two-week trial heard that Wilkinson joined the Territorial Army at 19 and went on a six-month tour of duty of Afghanistan in 2009.
'Pack his bags'
Following his return, he was diagnosed with post-traumatic stress reaction by an army doctor.
The court was told Wilkinson moved into Mrs Garnett's attic room as a lodger in July 2010.
On the day of the shooting, 24 January 2011, Mrs Garnett returned home and shouted at him for not letting her dogs out during the day as she had requested.
Wilkinson said Mrs Garnett threw his gun up through the hatch into his attic bedroom and told him to "pack his bags".
When Mrs Garnett returned to the attic room, Wilkinson fired three shots at her.
The first shot hit Mrs Garnett in the chest, the second grazed the side of her face and the third was fired from close range into her head.
He said he could not explain why he shot Mrs Garnett and it was as though he was in a "trance" but he told the jury he realised what he had done immediately after firing the third shot.
Wilkinson will be sentenced for manslaughter at a later date.