Call for community to save derelict Wakefield venue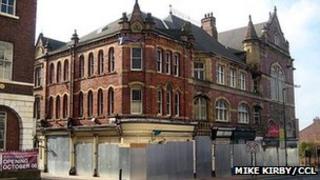 People in Wakefield are being asked to put money towards restoring one of the city's historical buildings.
A community group is planning to turn the derelict Unity Hall on Westgate into a music venue and digital media centre.
The group is aiming to raise £200,000 in a community share issue by the end of May.
The project leader said the money could help convince funders to donate the £4m required to restore the building.
Chris Hill from Shine, the community redevelopment company behind the plan, said the shares were the first stage in establishing the building as a community cooperative.
"The big funders are looking to whether it is well supported," Mr Hill said.
"And the only real way of measuring that is if we achieve our £200,000 investor target.
"It's a wonderful building with a great history and it's lovely to try and recreate a national music venue in the middle of Wakefield."
The venue was built in the 1880s and played host to silent movies, wrestling and ballroom dancing, before staging rock concerts in the 1980s.
The group has applied for funding from Europe and Wakefield Council to restore the building into a 650-seater venue, with meeting and function rooms as well as a cafe and space for independent retailers.