Pond creation plan to help Calderdale toads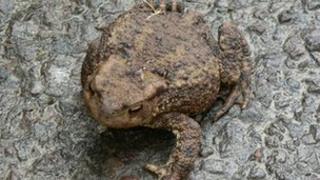 Ponds could be created in West Yorkshire - to save toads from crossing roads.
Council officials in Calderdale - which covers the area around Halifax - want to take action to prevent toads being killed by cars.
Existing ponds may also be cleared of rubbish to offer the toads places to breed.
Many sites that had been ponds have become either silted up or filled with waste.
Countryside officer Mary Seaton said: "Wherever possible we'll create ponds and habitat to prevent toads crossing roads.
"But we need people to tell us where ponds are, even if they're overgrown, so we can look at restoring them.
"We're trying to halt the decline of toads."