Kirkgate Market: Meeting opposes Leeds council proposals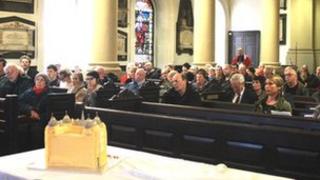 Changes to a 137-year-old West Yorkshire market were opposed by about 200 people at a public meeting on Tuesday night.
Leeds Kirkgate Market, the largest covered market in Europe, could be reduced in size by 25% under plans by Leeds City Council.
Friends of Leeds Kirkgate Market (FOLKM) said the changes would result in higher prices and would affect those most vulnerable.
The council said change was essential.
After Tuesday's meeting, held at Trinity Church on Boar Lane in Leeds, a spokesperson from FOLKM said the public and traders valued the market and wanted to keep "a true market for Leeds and the surrounding area".
According to the campaign group's publication, the Kirkgate Gazette, the market employs 2,000 people and generates £2m each year for Leeds.
Under council plans, the market would be reduced to 52,000 sq ft (4,831 sq m).
The 1970s and 1980s extensions to the rear of the building would be redeveloped and existing traders would have to reapply for tenancies.
'Mismanaged' market
"There's a lot of history and emotion in Leeds Kirkgate Market which we don't think the council are taking into account," said a spokesperson from the campaign group.
"We want to come up with other options for the market. We don't want it to go the same way as the Corn Exchange, which is a profit-making enterprise.
"We don't want the market to be mismanaged any more than it is at the moment."
A Leeds City Council spokesperson said the council wanted to stress that the public meeting was not part of the official consultation by Leeds City Council, and was run purely by Friends of Kirkgate Market.
"It is key to note that we have not made any decisions about the future for the market as of yet, and are still in the phases leading up to the feasibility studies for a number of different options which could be considered for the market," the spokesperson said.
"This will of course all be done in consultation with members of the public, traders and other stakeholders of the market, and we will be urging people to get involved and make their views heard."
Before the meeting, Leeds City Council said there would be no decisions made about the future of the market at the event.
According to the Kirkgate Gazette, 77% of people surveyed want the market to stay the same size.