Leeds United's Ken Bates 'used club programme as vendetta'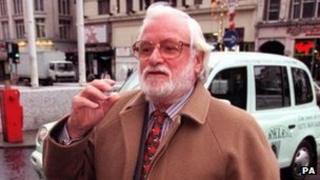 Leeds United chairman Ken Bates used the club's programme to pursue a personal vendetta against a former director and his wife, a court heard.
Melvyn Levi, once part of the Yorkshire Consortium which owned the club, is taking legal action against Ken Bates and United's chief executive Shaun Harvey over claims of harassment.
Leeds County Court was told Mr Bates made the couple's lives a misery.
Both Mr Bates and Mr Harvey deny the claims.
Mr Levi is seeking damages for harassment, the personal injury he says he has suffered because of it, and an injunction to stop any future harassment.
The allegations centre around articles in Leeds United's matchday programme and a broadcast on the club's radio station.
'Money-grabbing spivs'
Mr Levi's barrister, Simon Meyerson, told the court Mr Bates wrote whatever he wanted about people he did not like.
Mr Bates later admitted: "Yes, I write what I want to write, what I like, in the programme and I defend my right to do so, just like everybody else writes what they want to write."
Mr Bates denied he intended to make the couple's lives a misery but accepted the pair had been upset by what he wrote.
Mr Meyerson put it to Mr Harvey that Mr Bates used the programme notes to pursue a vendetta.
The barrister said: "Let's face it, you (the club) haven't been graceful about this have you? Because this is a vendetta isn't it? It is just an exercise in causing as much human misery as you can, isn't it?"
The court had previously been told one article, referring to Mr Levi and an associate, used the phrase "a pair of money-grabbing spivs."
The radio broadcast, on Leeds United's in-house station Yorkshire Radio, told listeners the club was looking for Mr Levi to serve legal papers upon him, urging anyone who had seen him to contact the station.
"This sought to suggest that Mr Levi was in some way a fugitive and invited members of the public to contact him," Mr Meyerson said.
The case continues.