Ken Bates made 'free dinner offer' to find ex Leeds Utd director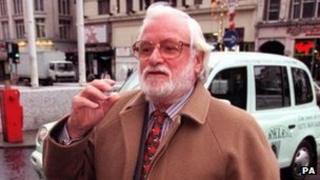 Leeds United owner Ken Bates discussed offering a free dinner to anyone who could help the club find an ex-director who is now suing him for harassment.
Mr Bates's idea was discussed at Leeds County Court, where Melvyn Levi is seeking damages for alleged harassment.
The club was trying to serve legal papers on Mr Levi when Mr Bates told his lawyer about the free dinner offer, the court heard.
Mr Bates has described the harassment allegations as "rubbish".
Mr Levi is seeking damages for harassment, the personal injury he says he has suffered because of it and an injunction to stop any future harassment.
The allegations centre around articles in Leeds United's matchday programme and a broadcast on the club's radio station, Yorkshire Radio.
Leeds County Court heard from Mr Bates's lawyer Hiren Mistry about the club's attempt to serve a writ against Mr Levi in December 2010.
Like a 'fugitive'
The club was pursuing legal action against Mr Levi for £190,400 Mr Bates claims he and another party owed the club.
Mr Levi's lawyer Simon Myerson QC claimed that Mr Mistry had heard from the club that someone had spotted Mr Levi and his wife having dinner in Leeds on 22 December but held back on serving legal papers.
Mr Myerson asked him: "Is it because Mr Bates had told you there would be announcements on Yorkshire Radio every day for two weeks offering dinner for two for information provided?"
Mr Mistry replied: "He did tell me that, yes."
Mr Mistry told the court he did not instruct the relevant people to serve the legal papers as he wanted to keep legal costs down for Mr Bates and the club.
The court previously heard that radio announcements asking for information on Mr Levi's whereabouts during a Leeds match on Boxing Day in 2010 likened him to "a fugitive".
The court also heard Mr Bates was accused of using the club's programme to pursue a personal vendetta and make the lives of Mr and Mrs Levi "a misery".
In 2009 Mr Levi successfully sued Mr Bates for libel over articles written in the programme and the Leeds chairman was ordered to pay £50,000 damages plus costs to Mr Levi.
The case continues.