Pontefract A&E department to reopen overnight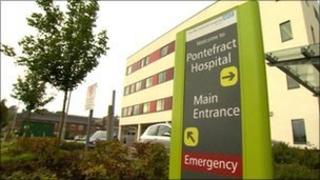 Pontefract Hospital's A&E unit is to reopen overnight from September, a health trust has confirmed.
Mid Yorkshire Hospitals Trust said it had tendered for an external provider to supply GPs to allow it to reopen.
Since November last year, the emergency unit has only been open between 08:00 and 22:00 each day.
Stephen Eames, interim chief executive, said: "We made a commitment... to reopen the department overnight as soon as it is safe."
He added: "There remains a shortage of hospital emergency doctors so we are sub-contracting a team of GPs."
From 3 September, a team of GPs would work overnight with emergency nursing staff and an anaesthetist, he said.
Patients requiring hospital admission overnight will continue to be taken to Pinderfields or Dewsbury.
Shortage of doctors
Mr Eames said the trust was still looking for a "longer term solution to emergency care" at its three hospitals.
Until Pontefract reopens patients needing A&E overnight should dial 999 or go to Pinderfields A&E at Wakefield.
A proposal to bring in Army medics at Pontefract to cover a shortage of doctors was ruled out by the trust following criticism of the plan from patients and MPs.
The chief executive and chairman of the trust resigned following the initial announcement to close the A&E.